KATHRYN'S DEBUT NOVEL IS NOW AVAILABLE ON KINDLE
Kathryn's passion for the written word is clear. Engaging and entertaining, she loves to share her story with aspiring authors or simply those seeking to step outside their comfort zones.
Kathryn's presentation is inspiring and refreshing. Her ever-present sense of humour will keep you awake long after the coffee grows cold. You'll be smiling as she shares snippets of her experiences with some true-to-you advice.
Presentation topics include:
The Author Impersonator: Yes, I'm self-published!
Assisted publishing, the new era of book writing, and how to master making your own path.
How to Write a Book and get it done.
The Romance Writer's Guide to Newfoundland
Writing romance: should there be an X in sex?
Or Kathryn can "Taylor" something to fit your special event or interest.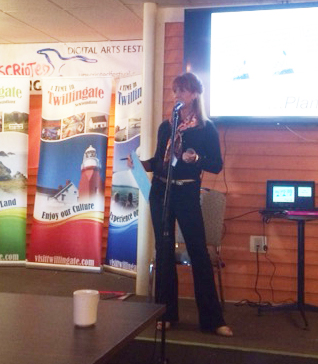 Love Notes from Kathryn
Subscribe to Kathryn's Love Notes and stay up to date on the latest happenings, speaking dates, and book launches.